A Disease Known as Despair (絶望という病) is the fourteenth episode of the Re:Zero anime.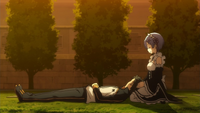 Characters
Edit
Anime Differences
Edit
Reinhard visits Subaru during the day instead of at night.
The scene where Subaru and Rem visits Kadomon's store first before heading over to the candidate information board is cut.
Rem is the one to inform Subaru about the Hakugei instead of Crusch and Ferris
The scene where Ketty introduces Subaru to Otto is cut along with his explanation of why he was depressed.
Otto stops at night instead of in the morning after waking Subaru up.
Ad blocker interference detected!
Wikia is a free-to-use site that makes money from advertising. We have a modified experience for viewers using ad blockers

Wikia is not accessible if you've made further modifications. Remove the custom ad blocker rule(s) and the page will load as expected.